There's a lot of pressure on academics these days. Especially if you're working in a business school, you're constantly faced with difficult time investment trade-off's. Building a vibrant research culture in a business school is therefore often a messy business. I was asked to describe the approach I took at King's College London to develop our research environment. Together with our Research Manager, Suzanne Marcuzzi, I provided the below overview of our vision and beliefs –  this is very much work in progress I should say, but this might give you an idea of what we're trying to achieve.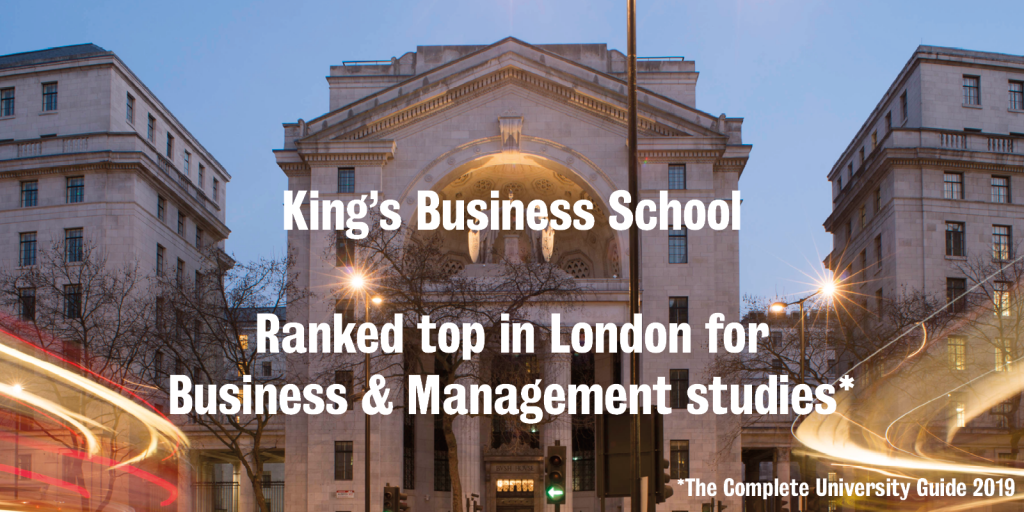 Do you want to know the truth? You can't handle the truth!' In the famous interrogation scene in the hit film A Few Good Men, Col Jessup (played by Jack Nicholson) paints himself as the last line of defence, allowing citizens to live their lives, rise and sleep under a protective blanket of freedom. This quote encapsulates how we sometimes see our role in leading the research activities at King's Business School, Kings College London. 
There is a harsh world out there, with tight budgets; students with high expectations; and increasingly competitive ranking systems. We try to sheild our faculty from this truth as much as possible, so they can pursue their research undisturbed and in complete freedom. 
For us, while the external factors matter, high-quality research matters just as much. 
Vision
At the heart of this ideal is our vision of academic research: we have an authentic and deep-lived conviction that is it the intellectual curiosity and intrinsic motivation of researchers that drive scientific progress. The people make the place. 
For us, all the rest – attraction and retention, grant income, publications, citations, business impact – flows from this central principle; a principle that needs to be nurtured, protected and prioritised. 
Most scholars have chosen this career because they aspire to make important contributions to our collective understanding of organisations. This is typically also the reason why they have joined us and why they stay at King's Business School. And it is the fundament of our research policy: for academics to have the intellectual freedom to pursue their ideas to contribute to – or change – the conversation in their domain. It is the very essence of what we do and it cannot be compromised. 
We are not naive in pursuing this. Our research policies have to accommodate diverging perspectives and to recognise the many pressures that our academics face. On the following pages, we describe how we manage trade-offs and try to develop and maintain a vibrant research culture.
A different type of Business School
Starting a new Business School provides a unique-but-challenging opportunity. While we build upon the strong legacy of the Department of Management and Business at King's, and while there is a lot enthusiasm around us, we have had to think carefully about our positioning. 
Business and society have undergone profound disruptions, transforming the way we live, work, consume and learn. There is heightened scrutiny of business and societal ethics with consequences for data privacy and security, people management and stakeholder engagement. As a new Business School, we aim to respond to these societal shifts through research.
We aim to address complex problems with fresh perspectives and innovative collaborations that transcend traditional academic boundaries and that employ data in novel ways. 
Embeddedness in the university
King's Business School is part of King's College London, one of the oldest universities in the UK and part of the Russell Group of leading research universities. 
While the Business School is a separate faculty, we seek to maintain strong links with the eight other faculty at King's and to benefit from and contribute to the strong research tradition at King's. 
These are not mere words. King's College lives and breathes research. When you walk through London's city centre, you pass King's College London buildings with posters of Nobel Prize winners and world-famous researchers. Informal conversations with colleagues from other faculties typically turn towards research interests and the unintended benefits of casual conversations with colleagues from outside your own discipline cannot be underestimated.
Many leading collaborations arise from a chance encounter. 
Faculty and university leaders are all established researchers who stay research-active throughout their leadership mandates. The university research culture is so fundamental that nearly all academic
staff, including our teaching fellows, have doctoral qualifications. 
Within the Business School, we cherish the multi-disciplinary foundations of King's. When hiring, we often pay specific attention to the backgrounds of candidates and their potential links with other disciplines in our university. We encourage our staff to join multi-disciplinary networks within the university and apply for internal grants in cross-faculty teams.
Research quality
The Business School research landscape is dominated by publications in a small set of elite economics and management journals. We do not believe it would create a healthy research climate to tie direct monetary incentives to such publications. Sometimes excellent research contributions are best served by being published in niche journals and given our multi-disciplinary foundations, we encourage staff also to publish their work in disciplinary journals in psychology, sociology, and other social sciences. 
Of course, we do encourage our staff to pursue excellence in research and to push the frontiers of knowledge, and this often happens in those top journals. Publishing in well-respected journals is not easy. In 2014, US-based academics Christian Terwiesch and Karl Ulrich, estimated that an A-journal publication equates to about $400,000USD of investment in faculty time and research support. 
However, because of the visibility and impact, we value and encourage research published in leading journals and we support our staff to pursue research suitable for publication in this elite set.
Establishing an international reputation of research excellence requires that we embed this focus on conducting world-class research early on in PhD programmes and emphasise this consistently in our research policies, performance management and hiring practices.
We maintain a system with low teaching loads when compared to international benchmarks and focus on quality of publications over quantity. Research into scholarly impact in the strategy field has shown that those who write fewer but high-quality papers earlier in their careers go on to write fewer but high-quality papers later in their careers as well. Research groups organise meetings to discuss manuscript development and help those conducting early career research navigate the sometimes very lengthy revision process. Most of our senior staff hold editor and editorial board appointments at leading journals, which helps us to mentor junior staff and to establish a culture of research excellence. 
We're also always seeking new ways to enrich our research culture. We have established a Distinguished Visiting Professor programme to bring leading international researchers to King's Business School for short visits to help build international research networks and to ensure we're always engaging with fresh perspectives. 
Research with impact
Our goal is to create an environment in which responsible research can thrive. We encourage our staff to produce credible and reliable knowledge which can be used to address, either directly or indirectly, problems of importance to both business and society. This isn't just about rigorous and relevant research. We aim for academic research that allows for actionable knowledge – 'science you can use'. It is research that provokes further reading, sharing, discussion, experimentation, and use in practice, aiming ultimately to transform business and society. Our external engagement team actively approaches staff to distil the actionable knowledge from fundamental research and to take initiatives that bring us closer to the business community. 
This sort of connected research takes time and energy. We have introduced a policy that reduces teaching loads for staff members pursuing projects which have the potential to make a significant impact on business and society. We are also working towards greater connectivity with the business community, engaging with stakeholders early on in research projects to co-develop research questions and co-design studies. Our three research centres focus not only on world-leading research but business-driven research with impact. We are also developing a 'thought-leadership' seminar series for executives, in which an influential scholar presents research results highly relevant to a specific business community and asks for their input and feedback. This is also a way of continuing to build our networks: asking for advice is often a good way of stimulating interest and involvement. We're now also encouraging our staff to publish more frequently in practice-orientated outlets such as Harvard Business Review and MIT Sloan Management Review. 
Research environment
We try to create an environment that supports researchers' intrinsic motivation, but also provides them with a sense of direction and progress. Each of our subject groups is led by a head of group. The heads of group, along with other senior staff, shape the climate of the group by signalling and modelling specific priorities relative to other competing goals. They are closely involved in developing the strategic direction of the School, as well as setting specific goals for their groups. By coming up with a shared vision and strategy, we try to be consistent and explicit about what we value in the stories we tell, in the decisions we make, and in the achievements we celebrate. Given the strong internal research drive of academics, managing the environment is sometimes more about removing obstacles and making things easier. Key to effective research support is the reduction or removal of administrative burdens, straightforward access to financial resources (for example, personal research allowances and seed-funding schemes), a good research infrastructure and travel opportunities. 
Even more fundamental to our research environment are strong, supportive working relationships, an inclusive climate, clear role expectations, psychological safety, and closeness to partner organisations. 
We know our academic colleagues can 'handle the truth': they know the pressures facing modern universities. But we see it as our role to create space and time to allow staff to focus on one of the core reasons they're here – and one of the main reasons they chose this career path: rigorous research which serves to educate, challenge and change. 
Federik Anseel is Professor of Organisational Behaviour and Vice
Dean of Research, and Suzanne Marcuzzi is Research Development Manager at King's Business School.